With the addition of our four juiciest type families, H&FJ's entire library of fonts is now available in the OpenType format.

Designers love OpenType fonts for their built-in technology, which helps automate sophisticated tasks like the insertion of ligatures and fractions. Network administrators love OpenType fonts for their ease of use, since the same OpenType font file can be used on both Macintosh and Windows. And everyone loves OpenType fonts for their expanded character sets: each of these fonts now covers an additional 45 languages, helping reach 200,000,000 more readers worldwide.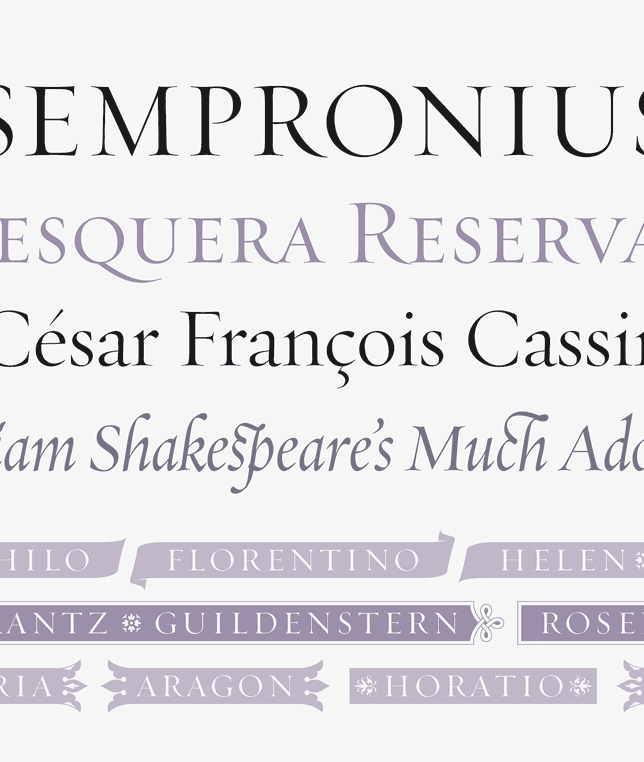 Inspired by a set of roman capitals in a sixteenth century writing manual, our Requiem type family is a study in contrasts. Requiem's passionate roman is paired with a lyrical italic, each mood heightened by a complementary set of characters: the roman features a proud set of small caps, the italic a collection of 75 decorative ligatures. Each style is offered in three different "optical sizes" to ensure that they're crisp and clear at any size, and rounding out the Requiem family are two sets of courtly "cartouche" alphabets.

Requiem 14 styles, from $199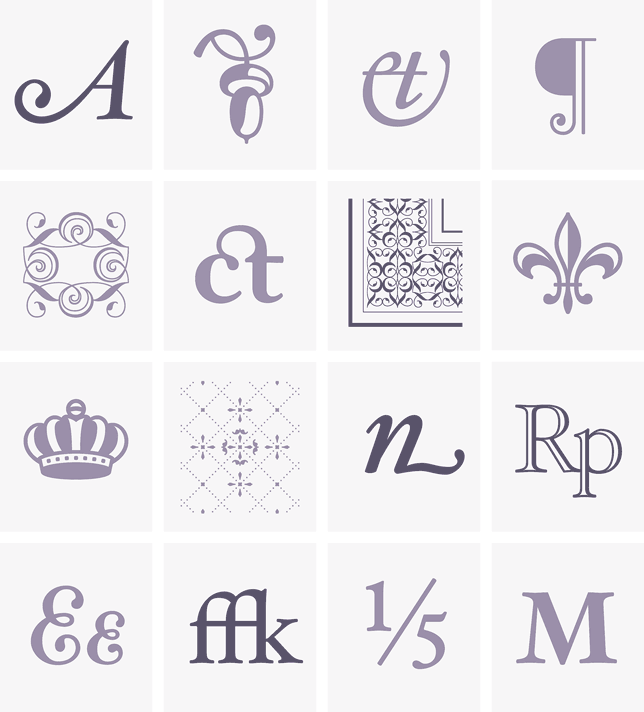 Steeped in the virtues of classical typography, Hoefler Text is a robust family of text faces with an especially deep character set. Thanks to OpenType, complex features that once required hunting through the glyph palette are now just a single click away: italic swash small caps, case-specific punctuation, archaic ligatures and decorative terminals are just some of what Hoefler Text has in store.

Hoefler Text 27 styles, from $299
The world is filled with recognizable and unique numbers that have never been available as fonts — until now. Originally commissioned by Pentagram for their eponymous calendar, the sixteen fonts in the Numbers collection are inspired by the typography of the public sphere, from vintage railroad cars to Soviet street signs. OpenType makes their fractions a cinch to use, recommending these piquant typefaces for even the most information-rich settings: think magazine covers, product packages, and annual reports.

Numbers 16 styles, from $129
You're receiving this e-mail either because you're a customer of H&FJ, or because you've created an account on our website, www.typography.com. We don't e-mail often, but if you'd rather not hear from us at all, you can simply click here to unsubscribe the address *|EMAIL|* from our list. Copyright © 2010 Hoefler & Frere-Jones. 611 Broadway, New York, NY 10012-2608. Bayside, Claimcheck, Delancey, Depot, Deuce, Dividend, Greenback, The Historical Allsorts, Hoefler Text, Indicia, Numbers, Premium, Prospekt, Redbird, Requiem, Revenue, Strasse, Trafalgar, and Valuta are trademarks of H&FJ, which may be registered in certain jurisdictions. Prices are subject to change without notice. All rights reserved.